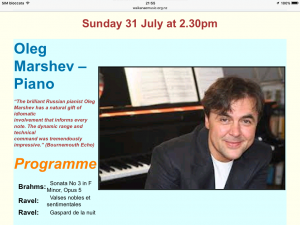 Middle C – Classical Music Reviews. Wellington, New Zealand
By Peter Mechen, 31/07/2016
Waikanae Music Society presents:
Oleg Marshev (piano)
BRAHMS – Piano Sonata No.3 in F Minor Op.5
RAVEL – Valses nobles et Sentimentales
Gaspard de la nuit
Memorial Hall, Waikanae
Sunday, 31st July 2016
This was the sort of programme that, on paper, would quicken the pulse of anybody interested in the romantic piano repertoire in general – and with Oleg Marchev's name attached to the enterprise, would settle the issue for the majority of piano-fanciers, myself among them. And while I might not have put Brahms' name forward as a composer whose music I would have liked to hear Marshev play ahead of people such as Liszt, Rachmaninov and Prokofiev, I confess was eagerly anticipating the chance to hear in recital that seldom-played titan among piano sonatas, Brahms' Op.5 in F Minor.
Is there a more confrontational, cheek-by-jowl, eyeballing opening to a piece of solo piano music in the romantic repertoire than the beginning of this work? My first-ever live encounter with this music was at the hands of the great Peter Donohoe (until recently, well-known to New Zealand audiences), on a never-to-be-forgotten occasion I witnessed in a Midlands English town twenty years ago, when he too began his recital with the piece. There I felt as if the piano was in danger of coming apart out of sheer strain generated by the power and physicality of the playing! – and even with Marshev's slightly more controlled responses to the music, I still got the impression of a fist being shaken at the heavens, though with rather more nervous energy and urgency than sheer, granite-like power and muscle.
As important as these moments were the contrasting lyrical sequences, which Marshev presented in beautifully-appointed paragraphs, building the ensuing surges of tone up into noble climaxes. What the playing might have lacked in raw visceral impact, it gained in cumulative effect, Marshev's control excitingly let off its leash at the development's opening, the pianistic textures jagged and attention-grabbing, leaving our sensibilities exhausted and gratefully receptive to whatever solace the music brought us in the aftermath. A noble, golden-toned major-key version of the opening reassured us for a few moments before the music plunged back into the opening, everything once again magnificently orchestrated and awe-inspiring. How wonderful it was to be again relieved by Marshev's way with those poignantly contrasted, rolling lyrical paragraphs once again, persuading us that life's storms are to be stoically endured rather than suffered without any hope or consolation.
Continue reading Oleg Marshev- pianistic pleasures at Waikanae →